SZNS is excited to power the DivineDAO, which seeks to organize a community within the Loot ecosystem. SZNS gives DivineDAO the ability to operate with a DAO framework built on the $DIVINE token, for community governance and management.
At the core of the SZNS platform are Albums, which are collections of NFTs that are governed by the Album tokenholders. Albums enable both fractional ownership and governance of high-value NFTs, opening up new opportunities for collective management of NFT baskets. You can read more about Albums here.
DivineDAO selected SZNS as their platform because SZNS offers an out-of-the-box DAO toolkit for collectively-owned NFTs. This lets the DivineDAO team focus on building their community and their product, instead of worrying about the technical implementation of their DAO stack.
DivineDAO will launch as a SZNS Album on October 14th, at which point users can become members by either participating in the $DIVINE token sale or offering their Divine Loot as tribute in exchange for $DIVINE tokens (more information to follow below).
What is DivineDAO
DivineDAO was built to supercharge the Loot ecosystem, forming as a more inclusive effort for all original Divine Loot items, including the more scarce (and thus less developed) hoods, gloves, and slippers.
DivineDAO's goal is to act as a bridge between multiple communities to increase collaboration, accumulate Divine Loot in a treasury governed by $DIVINE holders, collectively tell and create the lore and story for Divine, and use that governance power to help drive the rest of the Loot ecosystem.
You can learn more about DivineDAO's exciting plans here.
$DIVINE Token Sale
The intrinsic value of $DIVINE goes beyond the rare Loot NFTs held in the DAO's treasury, conferring both membership and utility to Divine Loot holders through governance over the DAO as a whole.
The $DIVINE Album Token Sale will commence Thursday, October 14th, 2021 at 12:00PM PST on SZNS and will run for a duration of seven (7) days. 8,000,000 $DIVINE will be available for sale for 0.000041625 ETH each, for a total raise of 333 ETH.
Anyone can participate in the sale and join the DAO by connecting their wallet to szns.io and purchasing their desired number of $DIVINE tokens.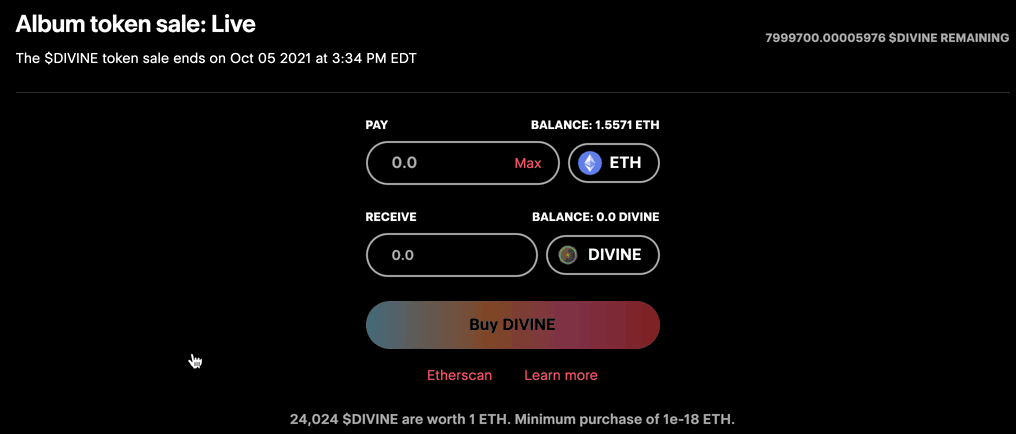 You can read more information about the purchase process on SZNS here.
Divine Loot Tribute
In addition to purchasing $DIVINE via the Album Sale, anyone can join the DivineDAO via the NFT Tribute process on SZNS, where holders of Divine Loot can offer up their NFTs directly to the DAO in exchange for $DIVINE tokens.
This approach offers the opportunity to acquire $DIVINE without using additional capital. The SZNS UI makes it easy for anyone holding a small amount of $DIVINE tokens (a governance default for all Albums to prevent spam) to select their Divine Loot NFT, and submit a proposal to the DivineDAO for tribute. That sends a message to the DAO that requests that Divine Loot NFT be exchanged for a specified amount of $DIVINE. If the proposal is accepted, the NFT gets deposited into the DivineDAO treasury, and the user will be sent the requested number of $DIVINE.
At SZN-0 launch, the v1 of the SZNS protocol prioritizes security over all else, leading to a framework of two-week proposals (more on our design choices here). While the SZNS interface offers the standard two-week proposal process (shown below) the DivineDAO plans to offer an expedited process for early contributors through an escrow process. More information on this will be shared shortly.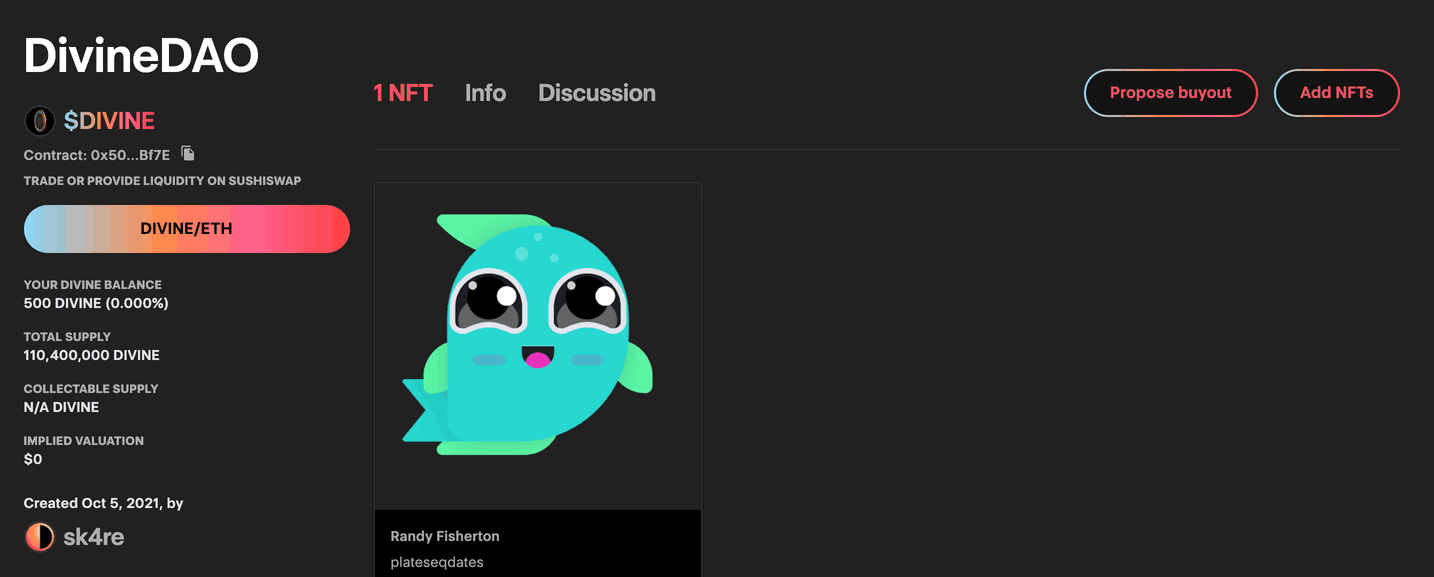 We're excited to work with DivineDAO to kick off the SZN-0 beta launch of the SZNS protocol and look forward to supporting more projects on collective NFT governance.
What's Next?
Get ready to join the DivineDAO by participating in the upcoming Album Sale on October 14th, 12:00PM PST. Come learn more during our Townhall this Thursday, Oct. 7th at 11AM EST on our Discord.
In order to access the inner depths of the Divine City, you will need a Divine Key. DivineDAO has begun distributing these Keys to builders, artists, and patrons - if you would like to be considered to receive one, please apply here! You can also learn more about the DivineDAO here.